You just never know how it's going to turn out.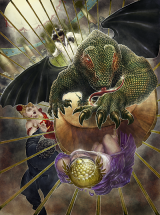 Five years ago Eye of the Crow (pub. Tundra) introduced the world to Shane Peacock's vision of a young Sherlock Holmes struggling for survival on the mean streets of nineteenth century Whitechapel long before the welcome support of Watson and Scotland Yard. That first book featured a crow and was very well recieved. Extensive braggy awards list follows.
The sixth book, Becoming Holmes, wraps things up this autumn. I admit we did know how that whole arc was going to go.
There are surprises along the way, one of the most unexpected of which came a couple weeks ago when we were approached by Glendon Mellow, curator of the  Symbiartic blog,  who liked our image of the komodo dragon. The next thing you know the cover art is on Scientific American.
Wow!
Without taking anything away from the other accolades, I must say attention from this quarter feels really good. Shane and I are science and history nerds who went into overtime sweating the details of every bit of every cover. What kind of wood was used in mid-1800s circus cages? What about the fabric in that dress? What kind of bindings were used on trapezes? Which part of the sky would the moon be in if we are in that location? We knew at the time that only a tiny percentage of people would notice or even care, but we did it out of respect for astute fans of the Holmes character who would know the difference.
The komodo dragon featured on the cover that caught Glendon's eye is the only real thing in an elaborate illusion that masks the crime in question. It was important for us to get it right. In all six covers, it would be the most difficult thing to render accurately.
We couldn't get a proper photo reference angle and we knew nobody in Calgary who had a komodo dragon for live reference. After around a hundred unsatisfactory sketches I was almost ready to consider cartooning it up to make things easier. We stuck through, delivered a nice dragon—two months late—and the book came out as you see it.
To have Scientific American recognize the work is satisfying on a level I cannot describe. I am glad we did it and most appreciative that Kathryn Cole, our most patient editor at Tundra, gave us the time and space to pursue this version of the cover.
A big thanks to Pamela Osti  at Random House and to Glendon Mellow for putting everything together.
Be sure to check out the last instalment of the Boy Sherlock Holmes series which features a nice cemetery and tested the patience of new editor and inheritor of the Patience Mantle, Tara Walker.
Accolades for Eye of the Crow, by Shane Peacock
Violet Downey Award
Arthur Ellis Award for Crime Fiction
Moonbeam Award Gold Medal
Canadian Library Association Children's Book of the Year, Honour Book
Canadian Library Association Young Adult Book of the Year, Honour Book
TD Canadian Children's Literature Prize finalist
Nautilus Award (U.S.), Silver Winner
Manitoba Young Readers' Choice, 2009, shortlist
Junior Library Guild of America Premier Selection 2007
American Library Association Top Ten Youth Mystery
Ontario Library Association Top Ten Junior Fiction
Short-listed for the Hackmatack Readers' Choice Award
Quill & Quire Book of the Year
Ontario Library Association Top Ten Young Adult Book