Monsterology
Fabulous Lives of the Creepy, the Revolting,
and the Undead
Tundra, 2005
Publisher
Arthur Slade
Author
Digital – 3150 x 4000px
Original Dimensions
Includes 14 painted portraits,  40+ spot illustrations, and a double-page map.
"Monsters from folklore and literature are given star treatment by Governor General's Award winner Arthur Slade. Derek Mah's accomplished and creepy illustrations work well with Slade's text.
Quill & Quire
"Two thumbs up!"
Owl Magazine
"Mah brings the ghouls gallery off the page with hauntingly original illustrations."
BC Parent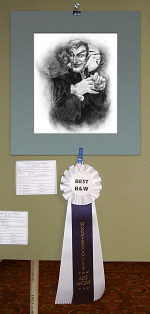 Monsterology debuted the week of October 16th, 2005 opening in  Quill & Quire's new releases chart at #5, faring well against releases by Lemony Snicket (#1), Michael Crighton (#2), and Margaret Atwood (#6).
The cover art won the top award for Black and White art at Los Angeles based Westercon 58 in 2005.
The book was well-received and was selected to Tundra's "40 in 40" retrospective as one of the top titles to be published in the past 40 years.
French and Spanish editions followed, leading to a sequel, Villainology, in 2007.